Ex-Marengo boss offers insight on Freeport purchase of Yandera
by Jimbo Gulle - July 19, 2021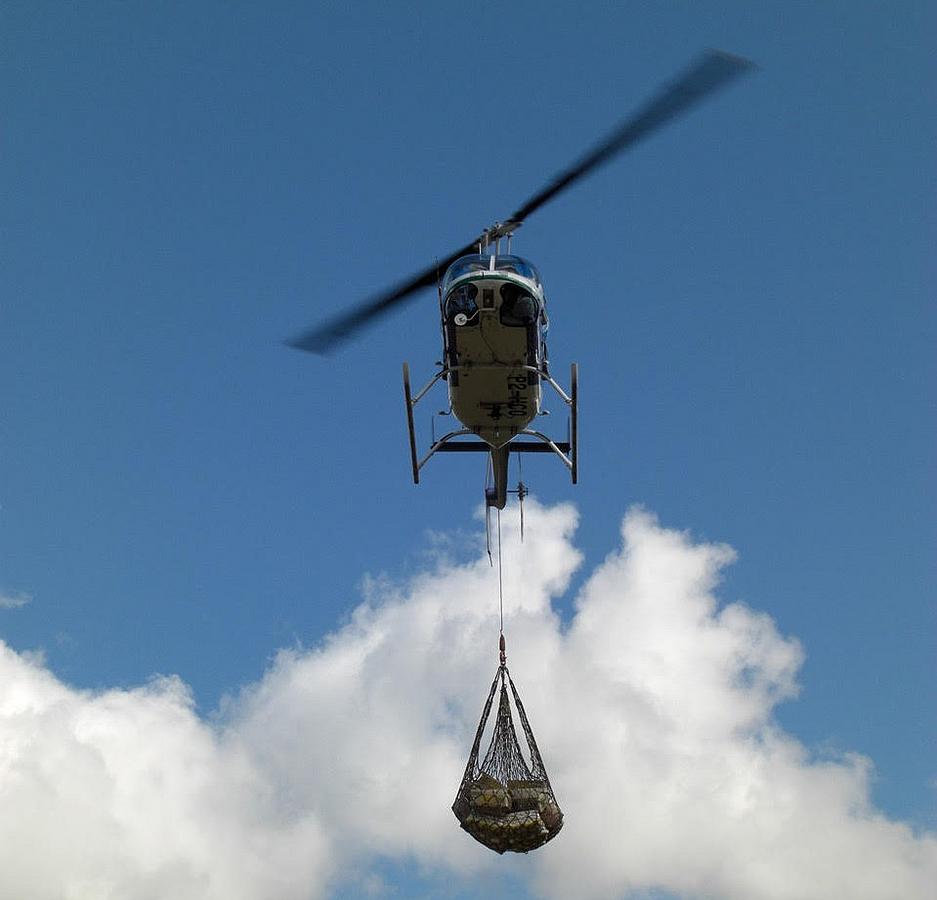 In this photo from 2014, as a helicopter makes a supply drop for the main camp of the Yandera Copper Project. Photo courtesy Les Emery
On June 28, Canadian junior mineral exploration company Freeport Resources Inc. announced it had acquired Carpo Resources Inc. in a definitive share purchase agreement -- and thus took control of the Yandera Copper Project in Madang, within New Guinea's rich Copper-Gold Belt.
Yandera is one of the most prospected resources in PNG that has yet to be mined. Located 95 kilometers southwest of Madang, the project area was the subject of intensive, drill-based exploration programs during the late 1960s and 1970s by a number of companies, including Kennecott Copper and BHP.
The historic activity, which included 102 diamond drill holes totaling over 33,000 metres, culminated in the preparation of a mining study by BHP, identifying the Yandera porphyry system as containing one of the largest undeveloped porphyry copper systems (with ancillary molybdenum and gold) in the southwest Pacific.
A pre-feasibility study, completed by the Worley Parsons Group in November 2017, indicated Yandera had measured and indicated resources of 727 million tonnes grading 0.39% copper equivalent with inferred resources of 231 million tonnes grading 0.32% copper equivalent. The study also identified 541 million tonnes of probable reserves, grading 0.39% copper equivalent.
Since acquiring Yandera, Era Resources Inc. – which is owned by Carpo Resources -- has completed an additional 471 diamond drill holes totaling over 144,000 metres. Era released an updated NI 43-101 compliant resource estimate in December 2016 following a 43-hole diamond drill campaign.
"This latest resource is significantly strengthened compared to the 2015 estimate, with a substantial increase in size," Era says on its website. "It also encompasses an expansion of the footprint, establishment of linkages between previously separate pits and the potential to further optimize pit designs and reduce stripping ratios."
But with Freeport -- which recently acquired Quidum Resources, which in turn controls the Star Mountain project in PNG -- now taking control of Carpo/Era, Yandera seems to be a step closer to development.
Freeport confirmed in a press statement that it does not expect to assume any material liabilities, nor will it commit the majority of its working capital or resources to Carpo or the Yandera's development.
"As a result, the transaction does not constitute a fundamental acquisition for the company, within the policies of the TSX Venture Exchange … [and] will not result in the creation of a new insider, or a change of control, of the company."
The acquisition is the second in PNG for the Vancouver-based Freeport in a year. Last October, it purchased the Star Mountains copper and gold project. The closing of the Yandera deal is pending Toronto Stock Exchange approval.
PNG Business News was fortunate to interview one man who was involved with Yandera for several years -- Les Emery, who was President and CEO of Marengo Mining Inc. until April 2014. Later that year the company changed its name to Era Resources Inc.
"I listed Marengo on the ASX in 2003 and then listed the Company on the TSX in 2008, as Marengo Mining Inc, delisting from the ASX soon after. In 2006 Marengo also listed on the Port Moresby Stock Exchange in Papua New Guinea," he told PNG Business News.
Following the listing of Marengo in November 2003, Emery and his management team started to look for a "company-making asset." During the next 18 months they reviewed some 150 projects before being offered an opportunity to look at several PNG projects.
"Following a visit to PNG in 2005, none of these projects were considered to be what we were looking for either; however, a chance meeting with some people in Port Moresby introduced us to the Yandera Project, which at that time was held in a private PNG company (Belvedere Limited)," he said.
Following a review of data on Yandera, produced by BHP and Kennecott Exploration from the pre-1975 period, an agreement was reached with Belvedere's shareholders for Marengo to acquire Belvedere, making it a wholly-owned subsidiary of Marengo and its PNG operating company (Yandera Mining Company Limited), Emery added.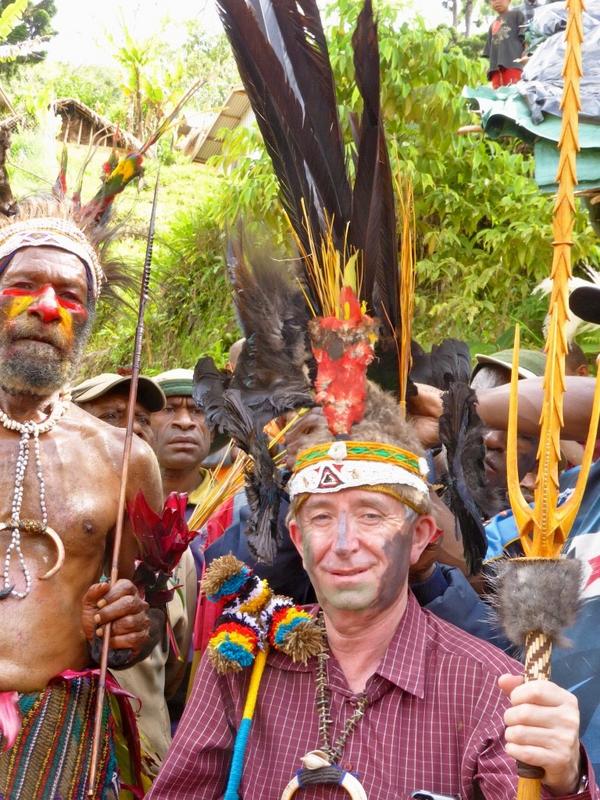 Here is the rest of our Q&A with Les Emery:
PNGBN: Please describe the Yandera project. How significant is it compared to existing PNG copper projects? To PNG mining projects in general (existing and prospective)?
Emery: The Yandera project is a world class sized copper-molybdenum-gold deposit that will be one of the next phases of mine developments in PNG. As we know, the 'electrification' of the world means that the demand for copper is increasing at a rapid rate and many of the world's current mines are seeing their reserves depleted by age, hence new mines are required. These mines are not discovered overnight and as in the case of Yandera, date back many decades to the original discovery, in Yandera's case more than 50 years.
PNGBN: How did Freeport Resources come to purchase Era Resources and thus Yandera? Were you involved in the decision? Will you still be involved with Yandera going forward? Why?
Emery: Following my departure from the board of Marengo the company changed its name to Era Resources Inc and during the following year the major shareholder, a private equity company, Sentient, took over the company in full.

During 2020, Sentient announced that it had exited its investment in Era Resources by way of a private transaction with an unnamed Canadian group. On 28 June 2021 Freeport Resources Inc, a TSXV company announced that it had entered into an agreement to acquire Era Resource and hence the Yandera Project from Canadian unlisted Carpo Resources Inc for shares.

I left Marengo in April 2014, so I had no involvement with the Company from that time.
PNGBN: Has Era's application for the renewal of Exploration Licence 1335 been approved? Why are there questions if it should be granted by the PNG ministry?
Emery: From recent enquiries it appears that the current renewal application for extension of Exploration Licence 1335 at Yandera has not yet been approved by the PNG authorities. It is my understanding that this renewal application covers a two year period from November 2019 to November 2021 and the delay in considering this is due to previous work programs/expenditure being considered. In addition, of course COVID restrictions have delayed many administrative matters in PNG.
PNGBN: From what you know, has Freeport begun contacting the community at Yandera to get them involved? How important would the project be to the community, and why is it necessary to build a partnership agreement with the local landowners?
Emery: As of today (July 3 -- Editor), I have been advised by a number of landowners that no contact has been made by Freeport, or the previous owners of Era Resources. My personal view is that for any company wanting to operate successfully in PNG they need to gain the full trust and support of the community, this can only be gained by giving the community early notice of any activities that affect them, whether not be on-ground activity or corporate matters that affect the ownership of the operator and hence its future activities on site.

As with many jurisdictions, in PNG the rights to minerals are controlled by the government, however the land is owned by the traditional landowners, so at all times you need to have full and rank discussions with landowners as to what you wish to do on their land and how it will benefit these people, together with what effect these activities will have on them. Failing to undertake these discussions on a very regular basis will work against any group wishing to explore and ultimately bring a project to mine status. I take pride in the fact that during my time at Yandera we put a big effort in maintaining a very strong relationship with the community at all times, this paying off with total support in return.
PNGBN: When would the Yandera project become fully operational? What would it take for Freeport to get it off the ground, in terms of financing, operations, etc.? What sort of revenues could the company expect yearly from this project?
Emery: As it has been some years since my involvement with the Yandera project I cannot give a definitive answer, however I believe that with the current demand for copper and with the right group operating the Yandera Project, it could become one of the next major PNG mines by the end of the decade, if not before. Any operating company will however need deep pockets or a substantially-sized partner.
PNGBN: Given the government's moves to modify or change the tax regimes for mining, how would it affect Yandera? How far away is the project from getting its license to operate from the government, and what would it take to open it sooner?
Emery: The recent moves by the PNG government to see greater participation on mining projects can only assist the Yandera Project, it aligns the aims of all concerned, the company, the government, and the community.
PNGBN: How has the COVID pandemic affected mining operations in PNG, and Yandera in particular? What are the opportunities and challenges for the project going forward?
Emery: Although I have no direct involvement in any PNG mining operation it has been well reported that some operations have suffered shutdowns due to COVID outbreaks and restrictions. As for Yandera, there has been no effect on exploration or feasibility activities onsite as it has been reported to me that no site activity has been carried out since 2017-2018.
---