New Chinese Ambassador Begins PNG Position
by PNG Business News - June 07, 2021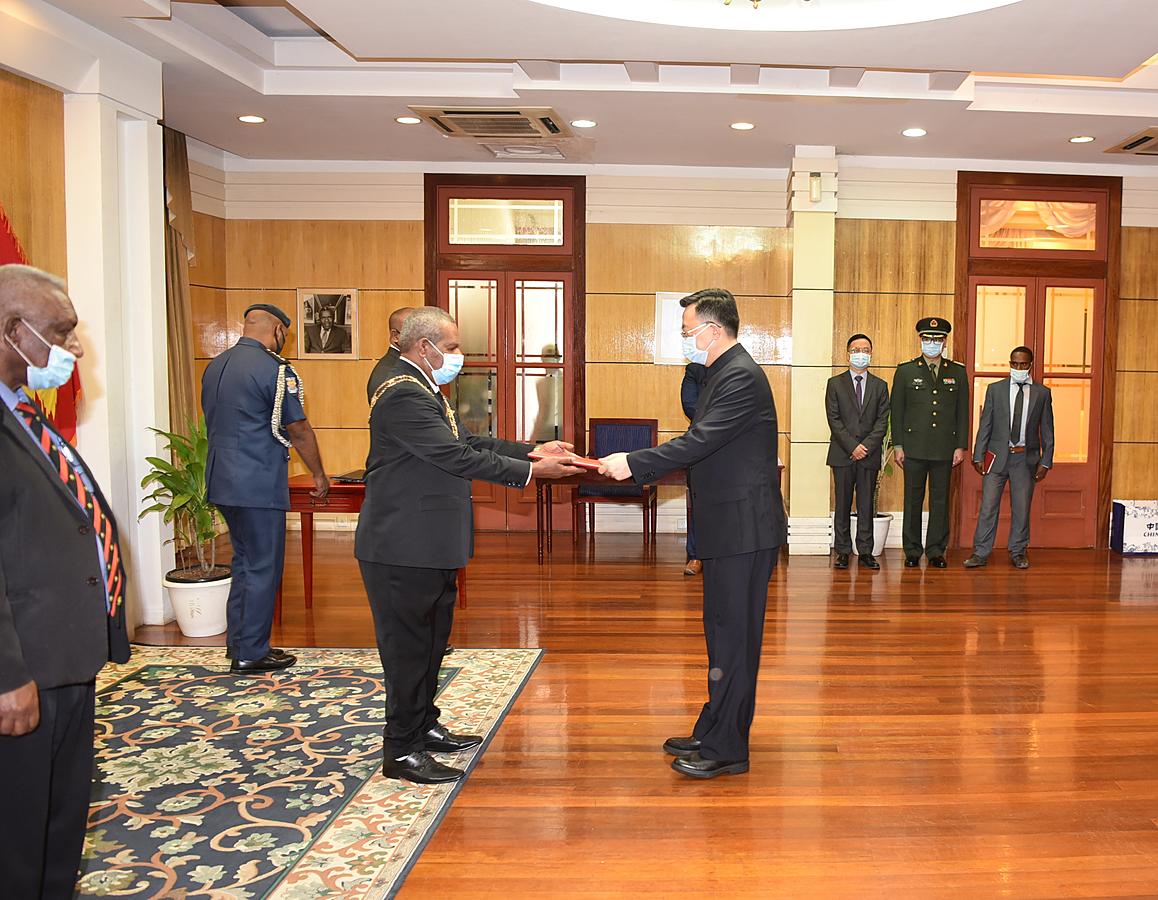 Photo Credit: Chinese Embassy in PNG - 1 June 2021, Mr. Zeng Fanhua, the new Chinese Ambassador to the Independent State of Papua New Guinea, presented his credentials to H.E. Governor-General Grand Chief Sir Bob Dadae.
Zeng Fanhua, the People's Republic of China's new ambassador, recently submitted the letter of accreditation to Governor-General Sir Bob Dadae, the country's head of state.
Ambassador Zeng succeeds Ambassador Xue Bing, who was recalled after completing his service in Papua New Guinea.
Ambassador Zeng stated the President of the People's Republic of China, Xi Jinping, who visited the nation in November 2018, offered greetings to the Governor-General, the Government, and the people of Papua New Guinea while handing the letter of credential to the Governor-General.
He described Papua New Guinea as a significant Pacific island nation that has gone a long way in preserving its sovereignty and independence while advancing socially.
Ambassador Zeng stated that China and PNG are members of the Asia-Pacific region and that the people of the two countries have had a long-standing relationship since the establishment of diplomatic ties in October 1976.
During President Xi's state visit to PNG in 2018, the two countries established a comprehensive strategic partnership based on mutual respect, ushering in a new chapter in bilateral relations with fruitful outcomes in the areas of energy, resources, infrastructure, agriculture, forestry, fisheries, and other practical cooperation and people-to-people exchanges.
These, he noted, contributed to the people's well-being as well as the region's economy and stability.
Ambassador Zeng stated that in the battle against Covid-19, China and PNG have stood united in their efforts to strengthen bilateral relationships.
He expressed his gratitude for the opportunity to serve as the 15th Ambassador to Papua New Guinea, saying that he will do all possible throughout his term to foster a win-win partnership between the two countries.
Ambassador Zeng stated that he hopes to work with PNG to execute major agreements reached by the two countries' leaders, enhance friendly interactions and cooperation in a variety of sectors, and help the China-PNG Comprehensive Strategic Partnership continue to thrive.
He also stated that he would require the assistance of the PNG government.
Reference:
Elapa, Jeffrey. Post-Courier (2 June 2021). "New Ambassador For China Takes Up PNF Post".
---