Governments Struggle with Providing Facilities, Says Study
by PNG Business News - April 12, 2021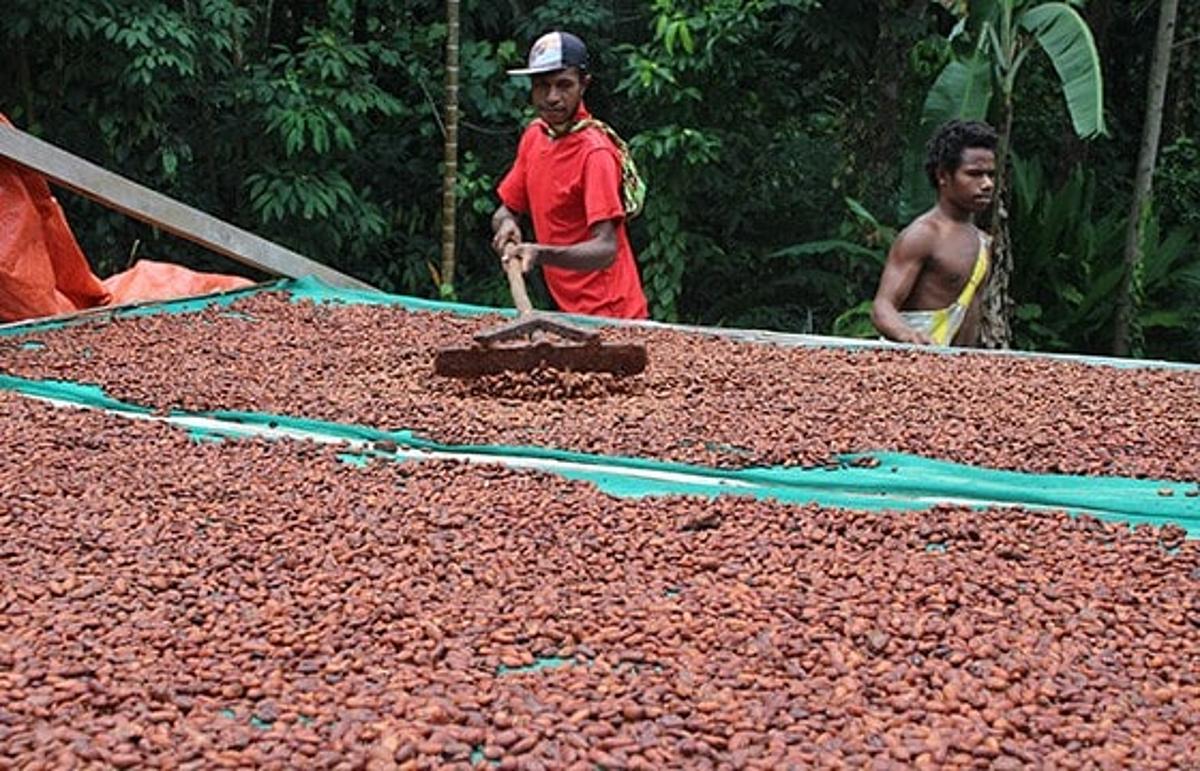 Governments in some coffee-producing countries have struggled to provide facilities that encourage the cultivation and processing of high-quality coffee.
Strategies for improving coffee production and processing in Papua New Guinea: Lessons from the top five coffee-producing countries, a report by the PNG National Research Institute (NRI), highlighted the country's coffee production and processing and proposed development strategies based on lessons learned from the top five coffee-producing countries in the world.
Brazil, Vietnam, Colombia, Indonesia, Ethiopia, and Papua New Guinea were among the six coffee-producing countries studied across four continents.
The study's abstract can be found below.
Introduction
Coffee is the second most important agricultural crop in Papua New Guinea (PNG), after oil palm.
Coffee processing produced jobs as well as foreign currency earnings.
From 2012 to 2017, coffee accounted for 27% of total agricultural exports and 6% of the country's gross domestic product (GDP).
It helped PNG's economy in a variety of ways, including transportation, construction, manufacturing, retail and wholesale, insurance, and banking.
Arabica is a coffee species that is widely grown in PNG, mostly in the Highlands between 700 and 2,050 meters above sea level.
Robusta is grown in coastal areas of PNG at elevations of up to 550 meters above sea level.
PNG produces high-quality, fine-flavour Arabica coffee, which is highly sought after by coffee drinkers.
Coffee production in PNG, on the other hand, seems to be decreasing.
Between 1998 and 2018, according to a survey by AECOM (2018) on PNG coffee market research, exports fell to 934 60kg bags.
In the foreign market, the price of coffee has also been falling over time.
The implication is that, since the two components of coffee revenue (output and price) to producers are decreasing, the revenue would decline over time, resulting in significant consequences for the producers and the PNG economy.
Results of study
In Papua New Guinea, the annual area of coffee fields cultivated ranges from 41,000 hectares in 2002 to 87,000 hectares in 1999.
In PNG, the area of coffee fields cultivated decreased by 33% from 81,000 hectares in 1998 to 54,000 hectares in 2018.
When compared to the smallest area of coffee field harvest among the top five nations, PNG's largest harvested area (87,000 hectares) is 71% less than the smallest harvested area (220,000 hectares).
The amount of coffee beans processed has decreased by 28% from 81,000 tonnes in 1998 to 58,000 tonnes in 2018.
It's worth noting that there was no data available for 2008.
Over the course of the research, PNG's annual coffee production was lower than that of the top five coffee-producing countries.
Vietnam had the most coffee harvested per hectare of the top five coffee-producing countries.
It jumped from 1,875 kg/ha in 1998 to 2,612 kg/ha in 2018, a 39 percent rise.
Brazil harvested 816 kilograms per hectare in 1998 and 1,906 kilograms per hectare in 2018, a 134 per cent rise.
Findings from a literature review on key challenges to coffee production and processing in Papua New Guinea
The following are some of the obstacles to coffee production and processing in PNG:
INADEQUATE access to basic infrastructure and facilities – Smallholder farmers, especially those in rural areas, struggle to find facilities for coffee milling and storage. There were no decent roads for transporting agricultural supplies and goods to and from their coffee fields.
FARM management activities – Most coffee trees have reached the end of their economic sustainable life cycle, resulting in a decrease in crop yield.
Producers postpone or fail to perform required coffee husbandry activities such as daily pruning and the planting of shade trees.
REDUCED YIELD AND Uneven PRODUCT QUALITY – The quality of coffee produced in PNG is deteriorating.
INADEQUATE extension services – Coffee farmers, especially smallholders, need education on modern coffee production methods.
They, on the other hand, often find it impossible to obtain services from extension agents.
TECHNOLOGY – Modern technology can help coffee farmers increase productivity and increase the appeal of their commodity.
Coffee farmers in PNG, on the other hand, often lack modern technologies, which limits their ability to reach their full potential in the coffee industry.
CHANGE IN CROPPING Trend – Due to a drop in coffee market prices or problems with access to coffee processing facilities, some coffee farmers turn all or part of their coffee fields to other more cost-effective crops.
The turn to other crops may also be due to labour shortages for essential farm tasks including pruning coffee trees and picking coffee beans.
PESTS and diseases – Other threats threatening coffee production include the coffee berry borer, coffee leaf rust, coffee green scale, and pink disease (DAL, 2020).
UNFAVORABLE MARKET PRICES – The price paid to smallholder coffee farmers is often less than the rate paid to exporters.
Smallholders are also discouraged from paying attention to required farm activities, which has an effect on coffee productivity.
FINANCIAL ACCESS – Certain coffee farmers choose to grow their farm or buy coffee processing equipment. They, on the other hand, frequently have difficulty obtaining loans from commercial banks.
ACCESS TO LAND FOR COMMERCIAL COFFEE PRODUCTION – A wide area of land is required for commercial coffee production to be productive, particularly in terms of economies of scale.
Broad tracts of land with proper names, on the other hand, are often difficult to navigate.
This is due to the fact that the state-owned property with proper titles is almost depleted.
Communal-owned property, which accounts for nearly 97 per cent of total land in PNG, lacks proper titles; and
SECURITY issues – Theft of coffee goods, particularly in rural areas, is a major concern for farmers and raises production costs and losses.
Discussion
The results of this study revealed that PNG has the potential to become one of the world's leading coffee producers.
The country's climatic and environmental conditions are ideal for growing a variety of coffee varieties, giving it an advantage over some of the world's top coffee producers.
This may explain why, according to the study, PNG had a higher average coffee yield per hectare than all of the top five coffee-producing countries except Vietnam.
However, the region of cultivated coffee fields and the quantity of coffee produced by PNG have remained lower than those of the other top five coffee-producing countries studied in this report.
The PPAP, which is being implemented by the government with the support of the World Bank, has the ability to increase PNG's coffee production and make the country more competitive in the coffee industry.
However, the PPAP benefits only certain coffee farmers, making it impossible to achieve the desired rise in coffee demand.
More robust and reliable monitoring and evaluation processes are needed for the PPAP to contribute more meaningfully to the coffee market.
The project should place a greater emphasis on coffee tree replanting and plantation regeneration.
To increase overall coffee production in PNG, all coffee growers should have access to the PPAP (for example, through an all inclusion program).
---