Before we end the year, let us have a recap of Twinza Oil Limited's presentation during the 2021 PNG Mining and Petroleum Conference and Exhibition. Although the report was presented a year ago, (2 December 2021), Twinza's Executive Chairman, Stephen Quantrill, provided a remarkable forecast and insights on how their Pasca A Development Project will boost the economy of Papua New Guinea.
Twinza Oil Limited is an upstream Oil and Gas company with assets in Papua New Guinea. Their principal asset is the Pasca A liquid-rich gas field offshore Papua New Guinea. According to their company website, "the Pasca A field development plan has been completed, the petroleum resources certified and the programme necessary to obtain the licenses for full field development is complete." [1]
"Once the necessary government approvals are received, the Pasca A development is poised to become the first offshore gas field development in Papua New Guinea." The company foresees that the development of the gas field will encourage and lead more exploration of other fields in the Gulf of Papua.
With its main headquarters in Perth, Australia, Twinza is expanding their presence in Papua New Guinea to support the Pasca A Development. The company also has offices in Sydney, Brisbane, Port Moresby and in Singapore.
"Twinza's executive management team has a proven track record in the early identification, development and operation of highly prospective oil and gas projects."
During his presentation, Mr Quantrill described the Pasca A Development as a "Low Hanging Fruit". To explain this, he enumerated the following highlights of the project, namely: investor pedigree, experienced team, GCA Resources Estimate of >120mmboe (or million barrels of oil equivalent per day), simple development, short time to production, and strong economics.
He reported that Pasca A Development will boost the PNG economy. Moreover, the project delivers long-term investment, provides increase in government revenue, and supports economic growth. Here are more key points and numbers about Pasca A Development:
500 million Kina - Annual Tax levies, royalties
5 billion Kina, full development cost
+6% increase in government annual revenue
Forecast expansion of PNG Economy - more than double PNG's share of the project revenue
600 million Kina expenditure within PNG during construction
Regarding Pasca A Project's contribution to PNG's Economy, Mr Quantrill reported, "Direct PNG revenues from the Pasca A Project are expected to exceed US$2.5bn (Kina 8.7bn) and increase PNG's real GDP by over Kina 18bn."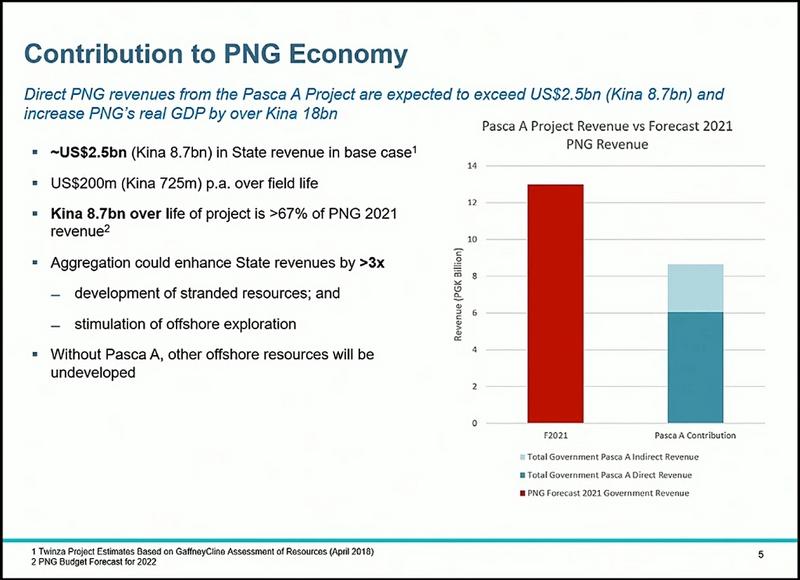 He also discussed the Economic Multiplier Effect of the Pasca A Project. "Pasca A Project will have a positive benefit on PNG's overall economic performance as a result of the flow-on to other industry sectors." He gave the following key points, such as the "Multiplier effects" of the project is 2x to 3x the direct benefits. The project also entails investment in physical assets (marine facilities) and social assets (education and health). Additionally, the project will generate employment benefits such as hiring more than 100 full-time workers during development, and/or total PNG operating workforce of 400 to 500.
For the macro-economic benefits in Papua New Guinea, it forecasts an increase in real GDP by K18.1 billion and an increase in real income of K4.6 billion. Aggregations could further enhance State revenues by more than 3x. [2]
Below is Pasca A Project development timeline.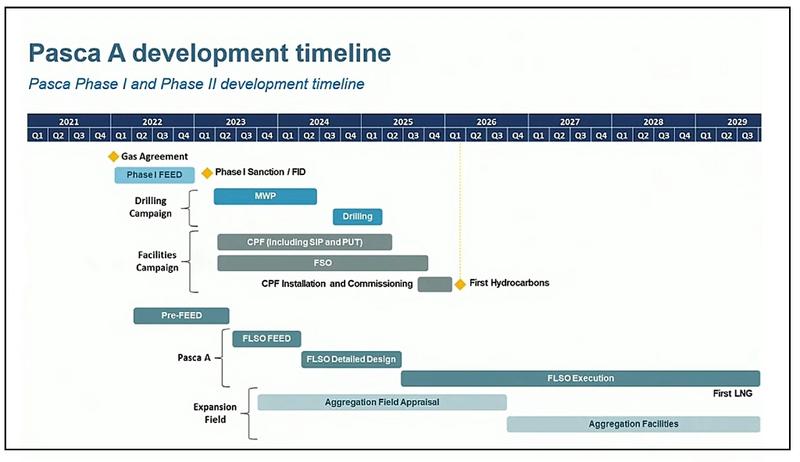 The Pasca A project also supports PNG's energy transition initiatives. The company sees this as an excellent opportunity to provide a bridge to electrification to 70% of PNG population by 2030, or a 12 to 15 year bridge to renewable power.
The Pasca A gas condensate field is a carbonate pinnacle reef that was discovered around 50 years ago. However, for almost 30 years, this was dormant with no further technical follow-on work. Then, in 2011, Twinza Oil Limited acquired the field. By 2018 they drilled a new exploration well. "Improvements in drilling efficiency, production technology, and development engineering have transformed the technical and commercial viability of the Pasca A gas condensate discovery."[1]
Hopefully, once government approvals are complete, the first offshore gas field development in Papua New Guinea will move forward and eventually fulfill their goal of helping the country's economy.
This year, the 16th Papua New Guinea Mining and Petroleum Investment Conference and Exhibition will be held on the 5-7th December at Hilton Hotel Sydney. PNG Business News is media partner of this event.
Reference:
[1] Twinza Oil Limited company website - https://www.twinzaoil.com/
[2] Quantrill, Stephen (2 December 2021). "Twinza Oil Limited - Pasca A Project - Gulf of Papua". A presentation during the PNG Mining and Petroleum Conference, Port Moresby and Brisbane
Photos and charts: Credit to Mr Stephen Quantrill, Twinza Oil Limited