ADB Report Projects Positive Growth for the Pacific in 2021
by PNG Business News - May 04, 2021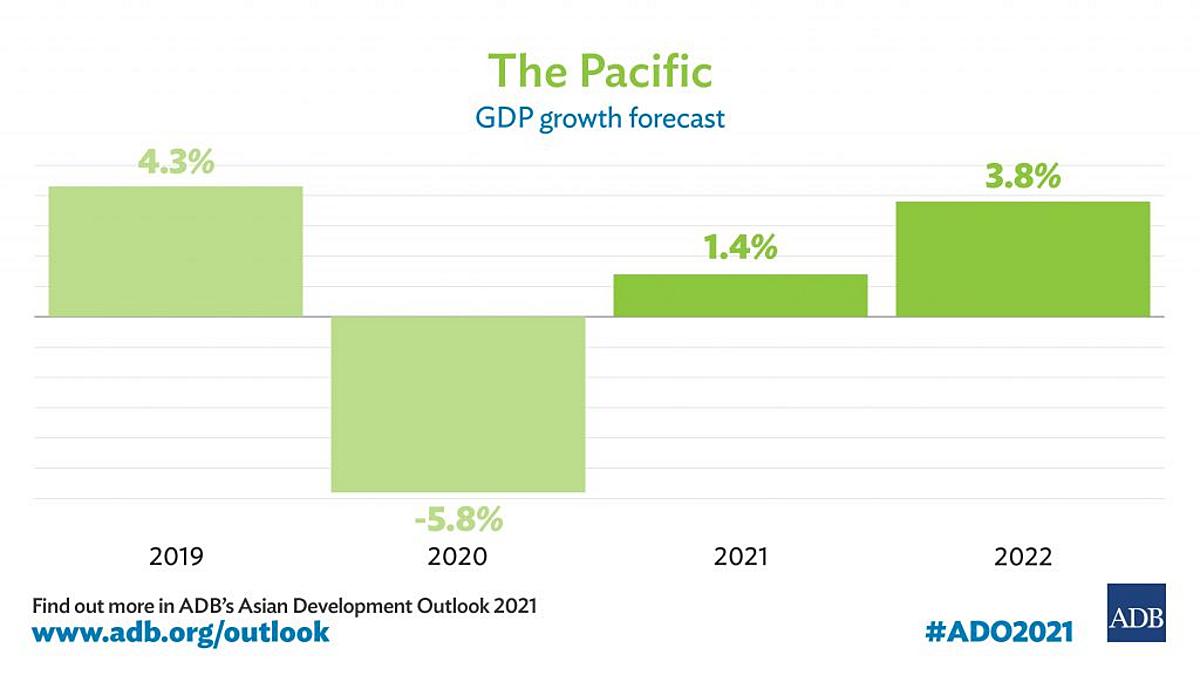 According to a new report published by the Asian Development Bank (ADB), the Pacific will return to positive growth in 2021.
However, the region's outlook is still fraught with dangers, and there is substantial variation among the 14 Pacific developing member countries (DMCs). According to the Asian Development Outlook (ADO) 2021, the ADB's flagship economic publication, the DMC economies contracted by 5.8% in 2020 as the coronavirus disease (COVID-19) pandemic directly impacted tourism and trade flows, as well as construction investment.
In 2021, a 1.4 per cent recovery is anticipated, based on increased tourism, the start of long-delayed development programs, and the resumption of labour mobility and cross-border trade.
"The start of the COVID-19 vaccine rollouts, both within Pacific DMCs and among their trade and tourism partner countries, indicate some economic recovery is likely in 2021," said ADB Director General for the Pacific Leah Gutierrez. "However, risks to the recovery remain, particularly in tourism-oriented economies that are feeling the heaviest impacts of the pandemic crisis."
Smaller tourism-dependent economies, such as the Cook Islands, where GDP is forecast to slip by more than a quarter this year; Palau, one of the world's most tourism-dependent economies; Samoa; and, to a lesser degree, Tonga, are likely to stifle overall development in the Pacific subregion this year. Travel bubbles are expected to help these economies rebound gradually, first in the Cook Islands and Niue with New Zealand, and then in Palau with Taipei, China. Overall, the Pacific is forecast to rise at a rate of 3.8 per cent in 2022.
With the launch of a planned travel bubble with New Zealand, the Cook Islands economy is expected to contract by 26% in 2021 before returning to 6% growth in 2022, according to the ADO. Samoa's economy is expected to contract by 9.2% in 2021 before rebounding to 3.1 per cent growth in 2022 until full vaccination coverage is reached and foreign visitors are allowed to return. Tonga's building and tourism markets will continue to be hampered by the twin shocks of Tropical Cyclone Harold and the COVID-19 pandemic in early 2020, leading to a 5.3 per cent contraction in 2021. The Tongan economy is expected to expand by 1.8 per cent in 2022, according to the ADO.
As it recovers from a pandemic-induced contraction in 2020, Papua New Guinea (PNG), the Pacific's largest economy, is forecast to rise slowly at 2.5 per cent in 2021. However, a new spike in COVID-19 cases is jeopardizing the economy's rebound. Budgetary funding and distribution of COVID-19 vaccines were provided by development partners. PNG's economic growth is expected to pick up to 3% in 2022.
Following an extraordinary 19.0 per cent contraction last year, Fiji, the subregion's second-largest economy and one highly reliant on tourism is expected to grow by 2.0 per cent in 2021. Fiji's economy is expected to rise by 7.3 per cent in 2022, assuming a rebound in tourism as a result of strong vaccine services both at home and abroad. Part of the effects of COVID-19 could be mitigated by increased tourism, but it could take many years for the economy to recover to pre-pandemic levels.
The Solomon Islands economy is expected to recover, with a growth of 1.0 per cent in 2021 and 4.5 per cent in 2022, according to the ADO, as fishing and construction resume. Work on public infrastructure programs, such as the Tina River Hydropower Initiative, transportation improvements, the reconstruction and extension of water supply and sanitation facilities, and construction for the 2023 Pacific Games, are expected to fuel the construction and related industries. The government's attempts to increase biodiversity are likely to result in a decrease in logging production.
Vanuatu's economy contracted in 2020 as a result of COVID-19 and Cyclone Harold's trade and travel restrictions. A tentative turnaround is expected as these limits are steadily lifted, with the growth of 2.0 per cent in 2021 and 4.0 per cent in 2022. This, however, would be contingent on a strong vaccine campaign and the development of travel bubbles with Vanuatu's major tourism markets.
In 2021, the North Pacific economies of the Federated States of Micronesia (FSM), the Marshall Islands, and Palau are expected to begin to weaken, with negative growth of 1.8 per cent in FSM, 1.4 per cent in the Marshall Islands, and 7.8 per cent in Palau. However, relative to 2020, these contractions are likely to be more subdued, as the current COVID-19 vaccine rollout eases pandemic-related border constraints that slowed international tourism and commerce. As sanctions are relaxed further and businesses continue, the ADB study forecasts a return to growth for all three North Pacific economies in 2022 (2.0 per cent for the FSM, 2.5 per cent for the Marshall Islands, and 10.4 per cent for Palau).
Despite being free of COVID-19 infections so far, the economies of Kiribati, Nauru, and Tuvalu in the Central Pacific slowed in 2020 as trade and travel constraints caused infrastructure projects to be postponed. As these programs return, development in Nauru and Tuvalu is projected to increase by 1.5 per cent and 2.5 per cent, respectively, in 2021. Kiribati's economy will decline by 0.2 per cent as a result of continuing constraints on the flow of goods and people as the world waits for COVID-19 vaccinations to arrive. According to the ADO, construction activity would aid Kiribati's return to economic expansion in 2022, with a growth of 2.3 per cent, while Tuvalu's growth will be 2.0 per cent. With the Regional Processing Centre set to close in 2021, Nauru's growth is expected to slow to 1.0 per cent in 2022.
The Asian Development Bank is dedicated to creating a stable, democratic, robust, and secure Asia and the Pacific while continuing to fight extreme poverty. It was established in 1966 and is owned by 68 owners, 49 of whom are from the city.
---