INVITATION TO THE 36TH AUSTRALIA PAPUA NEW GUINEA BUSINESS FORUM AND TRADE EXPO
by PNG Business News - March 09, 2021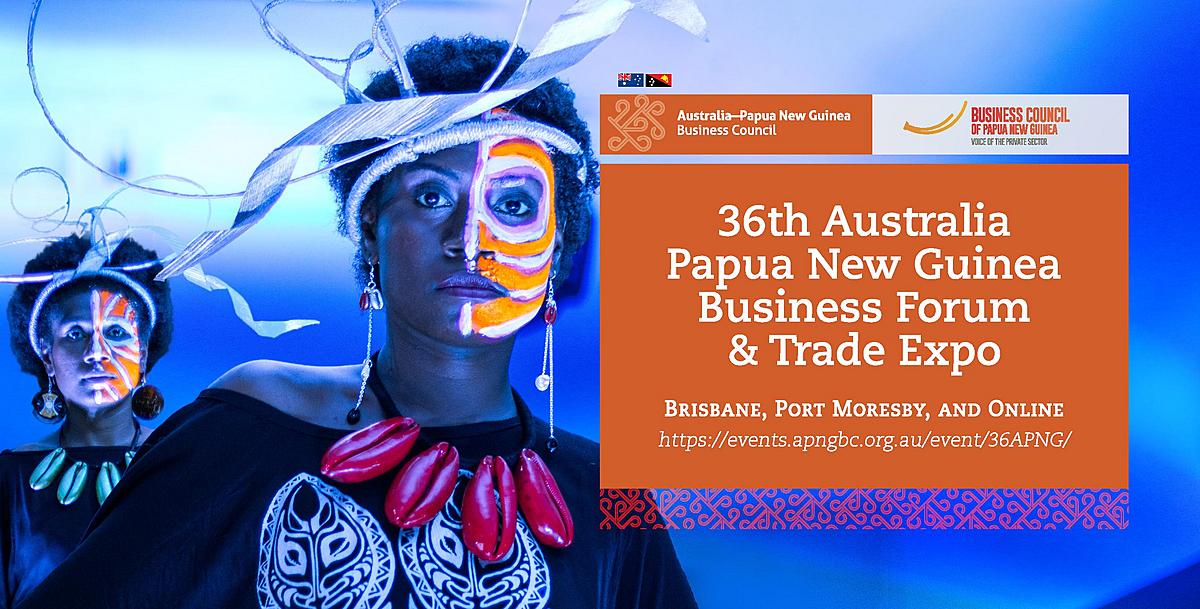 The Australia Papua New Guinea Business Council and the Business Council of Papua New Guinea are pleased to be re-launching the 36th Australia Papua New Guinea Business Forum and Trade Expo, which was deferred from 2020 to 24 to 26 May 2021. For the first time ever, this event will be held concurrently in Brisbane (at the Royal International Convention Centre), Port Moresby (at Hilton Port Moresby Hotel) and also online, with a shared speaking program.
The Forum theme for this year is "Reimagining the Future Papua New Guinea". The theme aims to capture the important message that Australia and Papua New Guinea along with the rest of the world, must move and pivot with the times and circumstances in order to prosper. It also looks to advance discussion about greater diversity in the PNG economy. Coronavirus and all its related restrictions and issues, along with advancements in technology mean that we must, collectively, think of different ways to work in trade, economy and indeed life. Online connectivity appears to be one of the important forms of communication that will continue for the foreseeable future.
This Forum is distinctly established as the leading annual bilateral business meeting between Australia and Papua New Guinea, and builds on the work both Councils have done over more than three decades in growing the bilateral business relationship.
The program for the Forum includes an overview of the political and economic climate, particularly issues which affect business and investment, and will include specific sessions by expert presenters on topics such as the Covid-19 Pandemic, emerging economic business opportunities in PNG, agribusiness, infrastructure, SME growth, Papua New Guineans in the Australian labour market, and resources.
Key government ministers from Australia and Papua New Guinea, and a range of other expert speakers, have been invited to address the Forum to inform business representatives of policy issues in their portfolio relevant to business, and they will be able to join us from whichever location they are in, whether Brisbane, Port Moresby or elsewhere. Delegates will be able to engage in lively interaction with presenters in most sessions either live in person, or via the online platform with a Q&A feature. Video recordings of presentations will become available online soon after they are given so that delegates may go back and revisit portions they may have missed.
There is something in the program for just about anyone who has an interest in the bilateral business and economic relationship and in the economy of Papua New Guinea.
Delegates will be able to connect via the online platform by sending messages and/or booking appointment times with each other, particularly if they are not attending the Forum at the same venue.
The Forum will again feature a Trade Expo for Australian and Papua New Guinean companies wishing to use the opportunity to match their goods and services to clients and purchasers in each country, and to broaden their business relationship. An innovative development this year is that all the trade booths will be online, with a limited number of physical booths at each location (as well as online) due to Covid restrictions. Booth exhibitors will be able to display their corporate logo, upload documents and short videos for visitors, include links to their own website, and chat one-on-one with delegates online, who can request meeting times with them via the online platform. This is a new, exciting and pioneering way to do things, and we will endeavour to have answers for you immediately should you encounter any problems while using the online platform.
Register early for this conference as in-person spots at each location are limited and demand will be heavy. To register, complete the online booking process at https://events.apngbc.org.au/event/36APNG/. Please take care to show where/how you wish to participate. There are many new features that we will be introducing during this Forum as we look to resume regular business to business engagement, which has been so disrupted during the last year. This is a very good value conference.
Enquiries about registration, Trade Expo bookings and accommodation should be directed to the secretariat of the Australia Papua New Guinea Business Council, on telephone + 61 7 3348 5142 or by e-mail at info@apngbc.org.au or to the Business Council of Papua New Guinea on telephone + 675 323 8465, fax + 675 323 5162 or by e-mail at admin@bcpng.org.
We look forward to hosting you at the 36th Australia Papua New Guinea Business Forum and Trade Expo on 24-26 May 2021, whether in Brisbane, Port Moresby, or Online.
---