Digitalization of Coffee Export Process to Transform Industry
by PNG Business News - October 12, 2020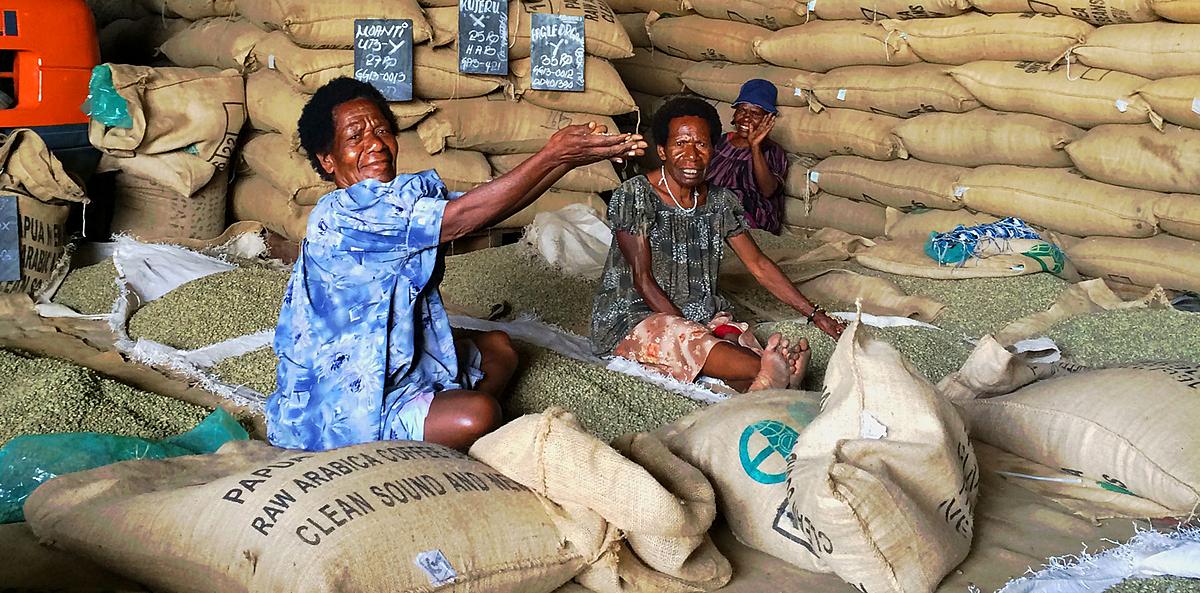 Starting October 2020 all coffee exports will only be facilitated through the use of the Coffee Industry Corporations (CICs) new online export management system.
This is in line with the CIC's strategic focus on moving towards digitalization by processing and documenting coffee exports from Lae and other authorized ports using the new online Coffee Export Management and Facilitation System (CEMFS).
Uptake in ICT, mobile technology and digitalization has increased, very much evident globally and even in PNG with increased uptake by many SMEs, business and some government departments since the lock downs and restrictions brought on by the advent of the global Coronavirus pandemic.
Digitalization is the preferred solution for many entities and individuals, including the Coffee Industry Corporation.
CEMFS was financed by the Productive Partnerships in Agriculture Project (coffee component) at a cost of K200, 000 and developed by SATEC, a Brisbane-based internet technology (IT) firm owned by Papua New Guineans.
The new online system will fast track processing of coffee exports including common shipping documents efficiently with less fuss and delay compared to the traditional manual and paper documentation process.
According to a press release, Chief Executive Officer of CIC Charles Dambui said: 'The new service will improve coffee export operations and enable PNG to be on par with international partners'.
Project Manager for PPAP coffee Potaisa Hombunaka said IT is the way forward in today's digital world to bring efficiency and remain competitive in coffee business.
STRINGENT PROCUREMENT PROCESS
The coffee manager added a normal stringent procurement process was involved to engage a qualified national firm to develop and set up the online export system.
"I believe in promoting Papua New Guineans. We have more than enough capabilities in the country and we can always seek their expertise from time to time."
Simon Areke of SATEC said CIC as the coffee industry regulator will be the administrator of the online service and assured coffee exporters that security of their offshore coffee contracts and other company information is guaranteed.
"We have installed block chain with excellent security systems where export contract details cannot be accessed by others," he assured.
BENEFITS OF CEMFS
Benefits of the online Coffee Export Management and Facilitation System include;
Exporters can monitor status of their application online.
It is user friendly and simple to use where exporters can quickly edit information on automated forms using mobile phones and tablets from any location with less hassles and greater convenience
24-hour threshold for responses to applications with a reminder to avoid delays
Less number of forms to fill in with all forms automated
Convenience of online payment options
"As time goes by CIC will integrate other features to make the online export Management system to be dynamic and robust.
Our aim is to reduce turnaround time and also continue to improve and promote performances of all coffee export business," Mr Dambui said.
On behalf of PNG coffee industry, he acknowledged the World Bank and the International Fund for Agricultural Development (IFAD) via PPAP (coffee) for its continued financial assistance to improve CIC's capacity including installation of the CEMFS.
Sam Menanga, Manager of Industry Regulations and Compliance (IRC) division of CIC described the new system as 'a big improvement' and challenged all coffee exporting firms, freight forwarders and others "to work as partners to improve it".
SATEC consulted with all stakeholders including CIC's Lae export office, exporters, Customs, NAQIA and freight forwarders to put together a system that everyone would appreciate.
The user friendly system uses automated forms that the CIC has been using with exporting firms, freight forwarders, National Agriculture and Quarantine Inspection Authority and others to process and certify export of coffee.
STAKEHOLDERS THAT ATTENDED AND WHAT THEY THOUGHT
Coffee processing and exporting firms from all Arabica coffee provinces in the Highlands attended the online introductory session held at the Goroka Phoenix Hotel/Steakhouse. Some firms that attended were Colbran CoffeeLands Ltd, New Guinea Highlands Coffee Export, Coffee Connections, WR Carpenters, Rilke Coffee, Kongo Coffee, Kosem Coffee Ltd and Wapenamanda Coffee Factory.
Exporters were impressed and very positive of this milestone achievement for the industry with remarks or phrases like "highly commented" and "long overdue".
David Rumbarumba of Kongo Coffee Ltd, a participant said "it makes our job easier for export processes but it is up to all of us to make it work".
Mark Munnul of Kosem Coffee Ltd in Jiwaka Province asked if CIC can forge an understanding with national carrier Air Niugini to support the online system to include freighting of coffee for micro lots or speciality markets.
Otherwise, he was impressed with this new service saying the online system will help speed up the process of filling so many shipping documents.
Jemmima Colbran and Esther Vialeahy of Colbran CoffeeLands in the beautiful Aiyura Valley of Eastern Highlands commended CIC and PPAP coffee for introducing what they described as a 'long overdue service'.
EXPECTED WIN FOR FARMERS
Overall the new system will make it more efficient for exporters with benefits like lesser time and cost savings expected to be passed back to hundreds of thousands of small holder farmers across PNG.
---