Photo: Mr. Sylvester Pokajam, President & Chairman of Fishing Industry Association (PNG) Inc.
In response to a recent media publication regarding the scaling down of operations of one of the country's major fish processing operators, the Fishing Industry Association (PNG) Inc. has clarified and maintained that the country's tuna stock is still in abundance.
Cutbacks to business operations within the fisheries sector are mostly due to high imposed taxes and business expenses, the group added.
FIA stated this considering a recent media publication (not PNG Business News) which reported that one of its associated members, RD Tuna Canners, was scaling down due to its fishing fleet's inability to supply its tuna processing plant with reports of the lack of tuna fish in PNG waters.
In an Interview with PNG Business News, the Chairman and President of Fishing Industry Association (PNG) Inc., Sylvester Pokajam, clarified and pointed out that the outset of the stated reports published on lack of tuna stock in that certain media publication is false and totally untrue.
"The status of the tuna stock (skipjack, yellowfin, bigeye and albacore) based on recent stock assessment indicates that they are all in healthy state and good shape," he said.
"This is one of the well managed and highly sustainable fishery stock in the Western and Central Pacific convention area," Pokajam clarified.
As shown in Table 1. Total average catch over the last five years (2018 to 2022) was 575,200 mt. (Refer to table)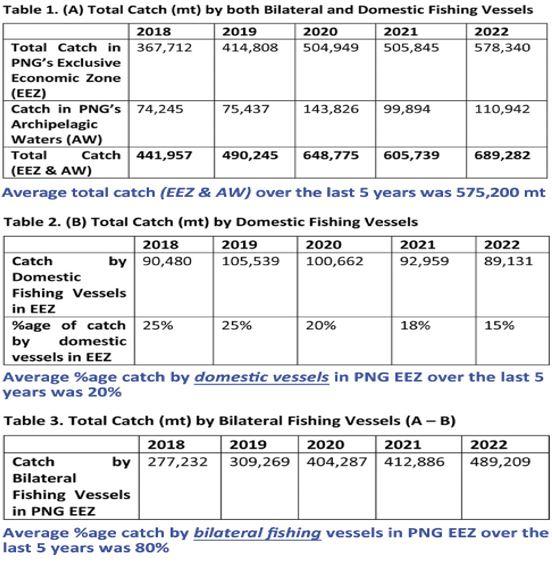 Catch and Effort Summary
Pokajam specified that the issue reported in local media concerning one of FIA's associated members is inconsistent with data already provided and lacks basis.
"The problem associated with RD Fishing company is that RD fishing vessels stopped fishing as of October 2022. The main reason being that under the previous Government's policy back in 2017, they (government) imposed a fee of US$10,500.00 (K37,0000) per fishing day for our domestic vessels (both PNG flag and locally based foreign flag vessels) that are vertically integrated with the processing plants".
"In the same way, RD fishing vessels are vertically integrated with its processing plant. The fish they catch are brought back in for processing locally in Madang. These vessels are being charged US$10,500 per day as do the other bilateral fishing vessels who do not even offload their catch to our local canneries for processing," he said.
Table 2 shows the catch by domestic vessels over the last 5 years which represent around 20% as compared to 80% by bilateral fishing vessels as shown in Table 3. (Refer to table)
Mr Pokajam explained that the ramifications of the fisheries policy that has been in place for the last 5 years have seen RD fishing vessels having to stop fishing simply because they could not sustain their operational fishing cost.
Many domestic fishing vessels are also facing the same problem which has seen more than 30 PNG flagged vessels reflagging to other PNA (pacific island) countries who were charging much less than what PNG has been imposing as fees daily.
During the last five-year period, the Fishing Industry Association has been calling on the Government through the National Fisheries Authority to review this policy. RD fishing has been finding it difficult to source their raw material for processing because their vessels had simply stopped fishing.
Mr Pokajam explained further that no vessels can supply RD as they also must fulfil their supply contracts and obligations, and the price of fish is quite high. However, fish caught by bilateral fishing vessels that pay the same fee as the domestic vessels of US$10,500.00 per day do not offload their catch for processing in PNG.
Average total catch by bilateral vessels over the last 5 years as shown in Table 3 make up 80% of the total fish catch in PNG EEZ. (Refer to table)
"These fish do not even make it to our local canneries for processing but are taken back to their own countries for processing. These are serious issues that need to be addressed collectively to avoid any future negative impacts on our tuna fishing industry" Mr Pokajam explained.
References:
Interview with PNGFIA President & Chairman, Mr Sylvester Pokajam

Catch and Effort summary supplied by PNGFIA.