MRA's Recent Study on Geothermal Energy and its Potential
by Marcelle P. Villegas - July 15, 2021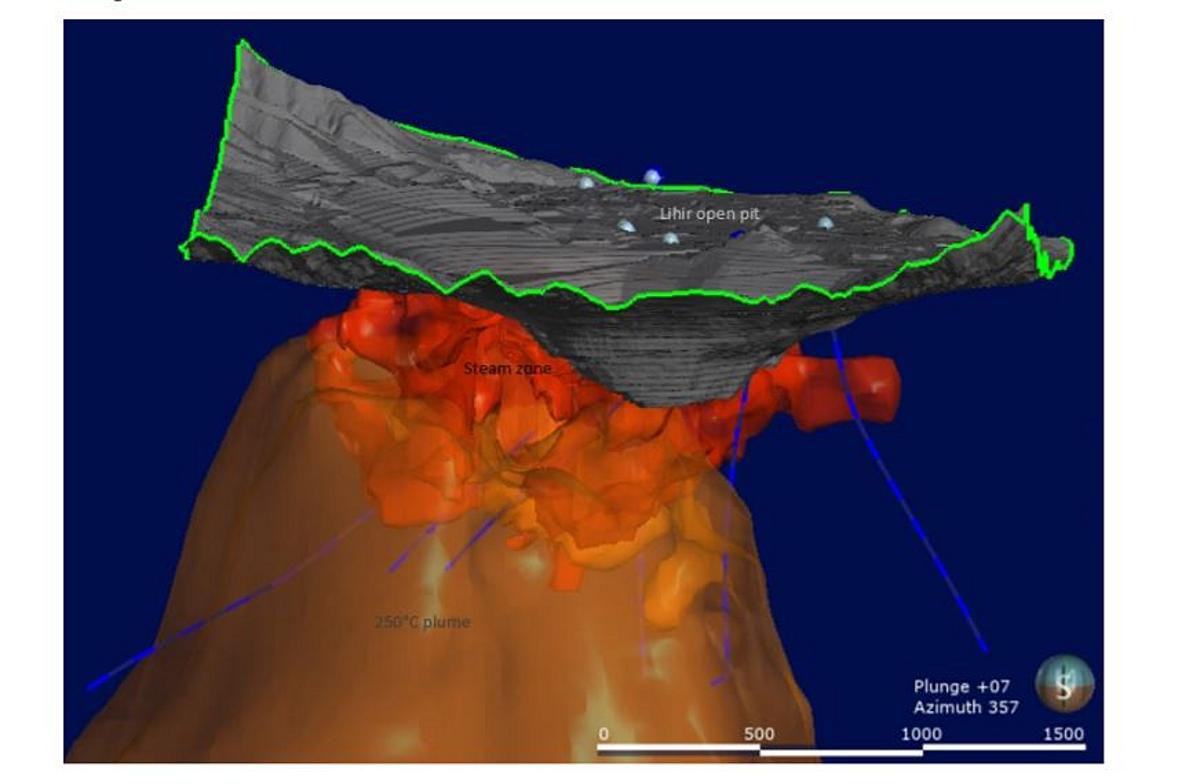 Image: Lihir geothermal model (Source: Newcrest Mining Limited [1]
A recent study by Mineral Resources Authority (MRA) explores the potential of geothermal energy as a possible source of sustainable energy for Papua New Guinea.
The Geological Survey Division, Mineral Resources Authority published "Geothermal Energy Resources of Papua New Guinea: Country Update" -- a study done by Maxine M. Lahan, Gener Villafuerte and Lynell Stevens. This study points out the geothermal energy is a good prospect as a potential source of energy in PNG. According to the researchers, "This paper aims to provide an overview of the preliminary geothermal studies initiated and conducted by the Mineral Resources Authority's Geological Survey Division since 2009 including recent government policy initiatives." [1]
Like any energy project, each country has its set of hurdles and challenges. For geothermal energy in Papua New Guinea, the study mentioned that the development of geothermal energy here is somehow hindered by lack of policy and further exploratory work. The study aims to identify the pervading problems and the possible solutions for the successful development of geothermal energy utilisation.
Alexander Richter from the Think Geoenergy website wrote on his article, ""Lack of policy and additional exploratory work required hampers potential geothermal investments in Papua New Guinea." [2]
He notes that this study released by the Mineral Resources Authority last 23 February 2021 "aims to bring the topic of geothermal energy back on the table in the country." [2]
The idea of developing geothermal energy is not a new concept. There was early historical research on potential geothermal resources that were done in the 1960s until the 1970s, and some recent ones by MRA in 2009 until 2016.
The study reported that currently, there are 55 known, identified and recorded geothermal sites. However, only seven regions have been mapped and sampled. Where are they located? "The prospects identified are Talasea along the Willaumez Peninsula on New Britain Island, Kasiloli prospect at the active volcano of Pago on New Britain Island, the Silanga propsect also at the Pago Volcano on New Britain Island. Other prospects are Deidei on Fergusson Island, part of the D'Entrecasteaux Islands in Milne Bay Province, Rabaul at the active Tavurvur volcano and some other smaller prospects." [2]
As mentioned earlier, the study mentioned that geothermal energy has great potential in providing alternative energy source for the country. Lihir Island has an operating geothermal power plant with notable high-temperature and permeability options. [2]
Creating the power plant was done in three stages / phases that started with a 6 MW backpressure plant in 2001. This was proceeded by a 30 MW expansion with a single flash plant in 2005. Finally in 2007, it had an additional 20 MW-Single Flash plant.
There are, however, only 9 MW of the 30 MW that is operating. And only 2 MW of the 20 MW plant are operating as well. This report was given by the Papua New Guinea country update for the World Geothermal Congress 2020+1 in Reykjavik, Iceland last April 2021.
Moreover, Richter noted in his article that there was increased interest in the geothermal energy in 2016, but "things have been pretty much idle since then."
He wrote, "In 2016 and again in 2020, the lack of policy for geothermal development was described as a key hurdle for the utilization of geothermal in PNG. While a new regulatory and supervision scheme seems to be set up for renewable energy development in PNG, there are not concrete plans for a boost for geothermal energy development. To develop the geothermal resources of PNG, "more exploratory work is required to collect additional information on the prospects already identified by MRA and others."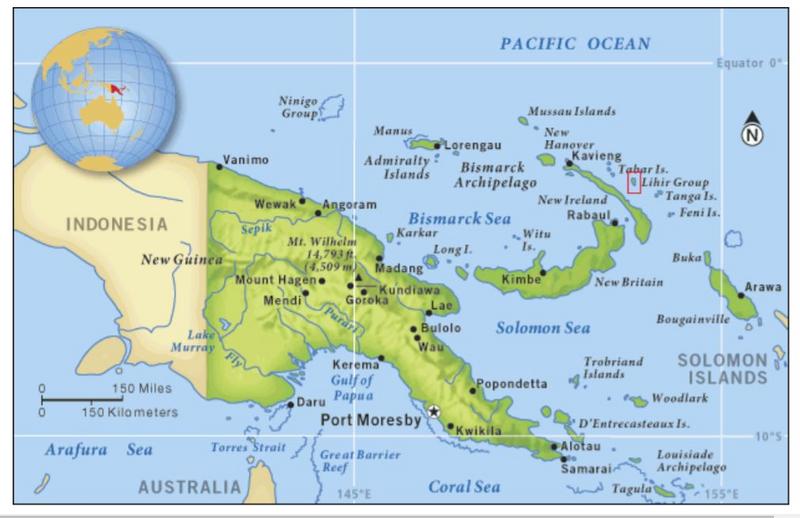 Now, let us look deeper into the study. The initial discussion first introduced the geological features of Papua New Guinea.
"Papua New Guinea is characterized by quaternary volcanic islands with potentially low to high-temperature geothermal resources that are yet to be systematically investigated for development and utilization," according the study.
A 50MW geothermal power plant on Lihir Island was installed. This is owned and operated by Newcrest Mining Limited within its gold mining lease.
It was observed that the research and development of geothermal energy and other renewable energy sources has been hindered by lack of political will and support for the development of policies and legal frameworks and finance that will accelerate the development of geothermal power plants. This goes the same for the development of other renewable energy resources. [1]
The study enumerates that PNG has abundant untapped renewable energy resources like hydro, geothermal, biomass, solar, wind, and tidal wave. However, due to the country's cultural diversity, land tenure system, rugged terrain and largely rural popular, developing these sources of renewable energy is difficult and challenging.
At the moment, hydro is the primary source of energy and provides just half of 797MW total electricity generation capacity. One-third of energy comes from diesel generators. Other energy sources like gas, geothermal and biogas generation "represent most of the balance with the bulk of this energy used for mining." [1]
Here are more key points from the study:
Diesel is dominant in off-grid applications.
The total electricity output in 2015 was 4324 GWh, comprising hydro-electric (23%), petroleum products (56%), natural gas (11%), and geothermal (10%) (APEC Energy Outlook, 2019).
The total installed capacity estimates for 2016 was 797MW sourced from hydropower (432 MW), thermal (223), gas (85MW), geothermal (50MW) and biogas (7MW) according to the APEC Energy Outlook (2019).
The gross production from the geothermal power plant on Lihir Island is currently 96 GWh/yr from 11 MWe generation capacity.
About half of the country's total installed capacity is from the private sector mainly for the mining sector.
The rest serves businesses and about 13% of the total population that live in Port Moresby and other urban centers in the country.
The majority rural-based citizens (87%) including urban settlements do not have access to electricity and continue to rely on traditional wood burning for cooking.
Portable off-grid solar energy is reaching many rural homes and urban settlements these days for lighting and phone charging and is having positive impacts on peoples' lives (APEC Energy Outlook, 2019).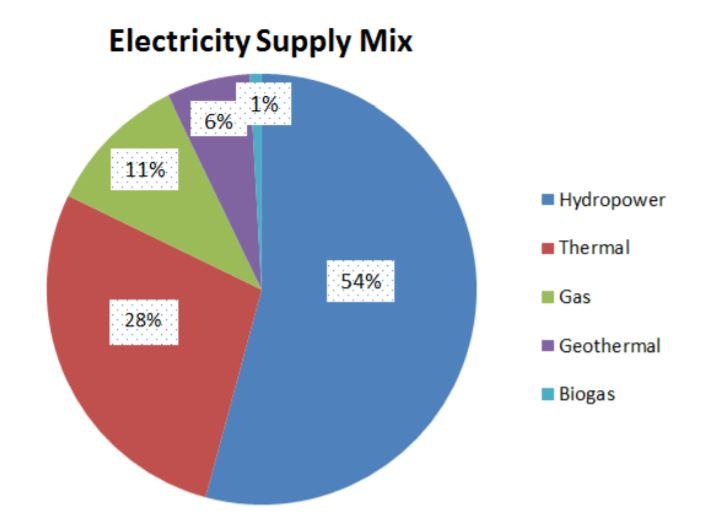 More on the geological background of PNG, it has a unique geology with rich amounts of mineral resources and geothermal potential. The study notes that this is because PNG is located on the "Pacific Ring of Fire". PNG is located on an active tectonic region or a collision zone between the ff. plates:
north-ward moving Indo-Australian plate
west-northwest moving Pacific plate
eastward moving Caroline plate.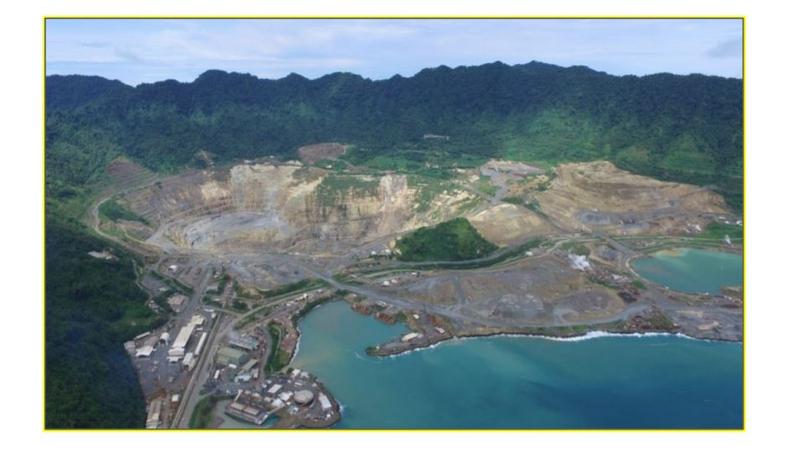 Lihir Mine and the geothermal steam field. The power plant is located at the bottom left corner of the photograph where the built up infrastructure area. [1]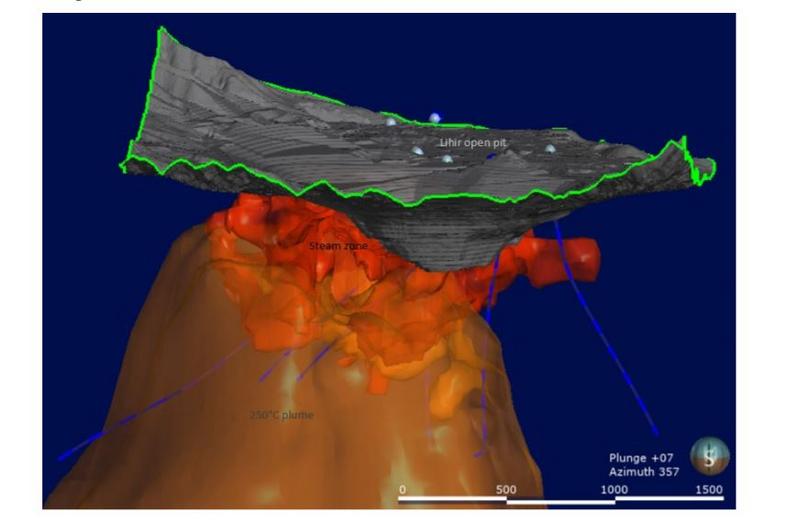 "The geothermal resource policy is yet to be passed in Parliament; however, the government has recently approved the National Energy Policy (2017-2027) which lays out the plan for the establishment of the new National Energy Authority and Energy Regulatory Commission which will be mandated to administer and regulate the energy industry. This policy provides for the development of various policies for geothermal and other renewable energy sources to develop sustainable renewable energy." [1]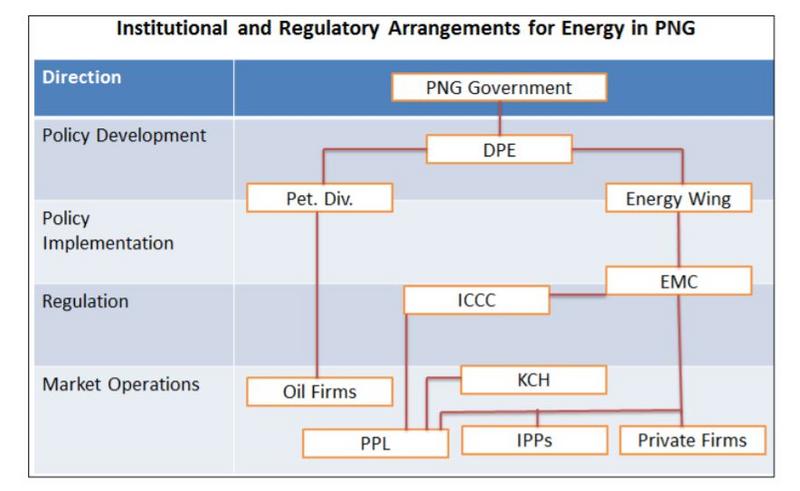 Looking at the future development and installation, what can we expect in the future? The study reveals that currently there is no plan for new geothermal power plant installations in the next 5 to 10 years. The study suggests that more exploratory work is required at this stage to collect more information on the prospects identified by MRA and others. [1]
However, there is still hope in the future, perhaps with the help of the National Energy Policy 2017-2027. "The recent policy initiative through the National Energy Policy 2017 – 2027 is a positive step towards the development of geothermal and other renewables as the new proposed National Energy Authority develops the policy and regulatory frameworks that would encourage geothermal exploration in the country and hopefully development." [1]
-----
Reference
[1] Lahan, Maxine M., Villafuerte, Gener, Stevens, Lynell. (April - Oct. 2021). Proceedings World Geothermal Congress 2020. "Geothermal Energy Resources of Papua New Guinea: Country Update". Retrieved from - https://pangea.stanford.edu/ERE/db/WGC/papers/WGC/2020/01028.pdf
[2] Richter, Alexander (24 Feb. 2021). Think Geoenergy Website. "Bringing geothermal back into the energy discussion in Papua New Guinea". Retrieved from - https://www.thinkgeoenergy.com/bringing-geothermal-back-into-the-energy-discussion-in-papua-new-guinea/
Photo credits/charts:
Courtesy of Lahan, Maxine M., Villafuerte, Gener, Stevens, Lynell. (April - Oct. 2021). Proceedings World Geothermal Congress 2020. "Geothermal Energy Resources of Papua New Guinea: Country Update". Retrieved from - https://pangea.stanford.edu/ERE/db/WGC/papers/WGC/2020/01028.pdf
---