Adyton Resources Starts Drilling Program at Gameta Gold Project
by PNG Business News - March 25, 2021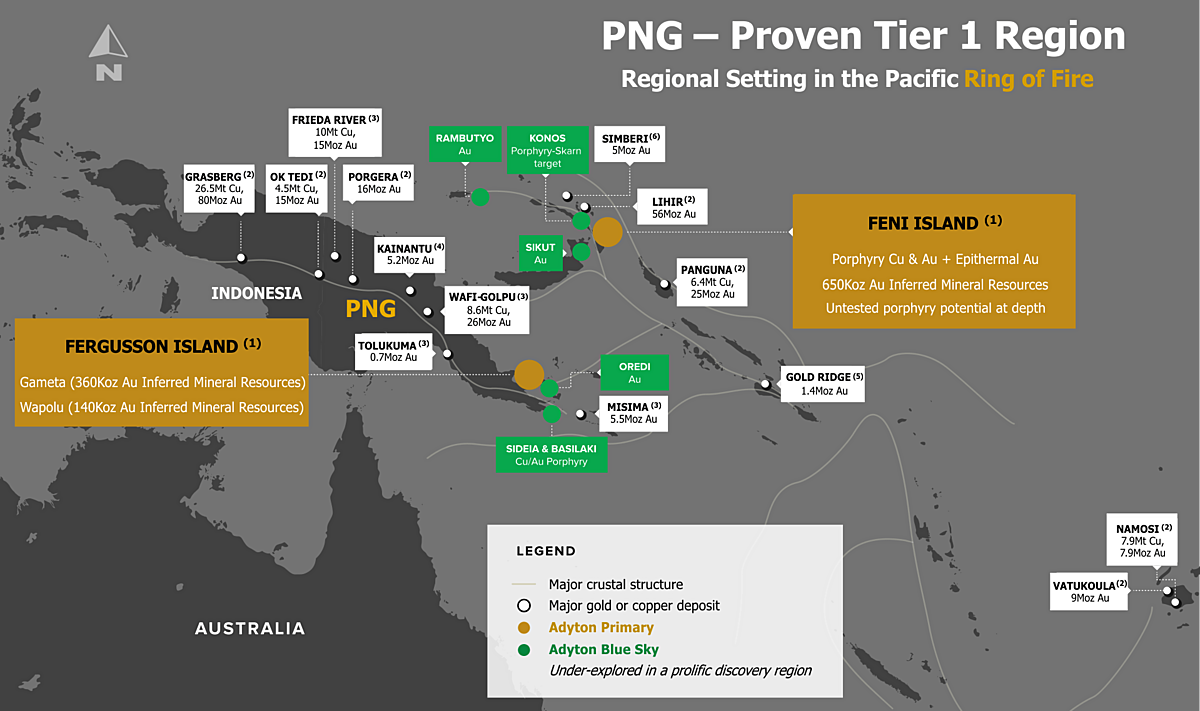 Adyton Resources Corporation has started a 3,000-meter diamond drilling program at its Gameta Gold Project on Fergusson Island, which is part of Papua New Guinea's "Rim of Fire."
The Gameta Gold Project has a 360,000-ounce gold (oz Au) inferred mineral resource, and Adyton's Wapolu Gold Project on Fergusson Island has a 140,000-ounce gold (oz Au) inferred mineral resource. Given the existing resource on Gameta, the goals of this program are to increase trust and add ounces by drilling deeper and along with strike extension drilling.
The Fergusson Island projects are located in the same discovery zone as Misima and the nearby Woodlark Island projects.
The first drill hole has been finished after two drill rigs were mobilized to the site. By the end of May, the first assay results should be available. The program will supplement the 14,361 meters of past reverse circulation (RC) and diamond drilling at Gameta.
In May, the company will continue drilling on its 100% owned Feni Gold Project, which has a 650,000 oz Au inferred mineral resource and is located in a Tier 1 area along a mineral belt that includes the world-class Simberi, Lihir, and Panguna gold and copper projects.
Frank Terranova, Chairman, President, and Chief Executive Officer of Adyton said, "The company is pleased to be off to such a fast start after only listing in late February 2021. Having spent significant time and effort over the past several months creating a portfolio of highly prospective copper and gold exploration projects, the Adyton team is excited to be drilling and working to create shareholder value. The drill rigs are turning, and news flow is imminent. The company is very well positioned with more than $9 million in cash reserves, over 1,000,000 oz of mineral resources in the inferred category, and major shareholders and banking partners who remain fully supportive of our exploration strategy."
Terranova stated that recent PNG COVID-19 developments had had no material impact on the company's exploration campaign since all of the Fergusson Island and Feni projects benefited from being located on islands.
He said, "The technical teams will remain on-site for the duration of the drilling programs which are protected by appropriate COVID-19 safety and health protocols."
The Gameta job program has the following goals:
Diamond drilling will be used to increase the trust in the project's existing inferred resources, allowing a large part of them to be categorized as indicated or higher.
Drilling intended to extend the depth of historical drilling down-dip to test for extensions to the existing ore zones will be used to expand the existing resource base.
To analyze prospective processing routes, collect ore-grade samples for metallurgical and geotechnical testing.
Adyton intends to deploy the two drill rigs to the Feni Gold Project, which is situated within the Lihir volcanic arc, in the coming weeks.
The initial Feni drill program will consist of approximately 3,000 meters of diamond drilling, which will be added to the project's existing 18,893 meters of RC and diamond drilling.
A substantial and largely untested porphyry copper target has been clearly highlighted by recent 3D re-processing of Induced Polarisation (IP) surveys conducted in 1998. This primary phase anomaly is modelled as a 150-200mm sub-vertical pipe with a substantial depth extent. The drilling program will focus on this pipe-like feature.
The drilling program at Feni has the following goals:
Within the Kabang mineralised structural corridor, test for both porphyry copper and overprinting epithermal gold mineralisation. Drilling for the porphyry copper target would take place at a depth of 500 meters.
By upgrading a part of the inferred resources to indicated status, the existing 650,000 oz Au inferred mineral resource will be increased, as will the trust in the current identified resources.
Complete a drilling program in and around the Kabang prospect with the main objective of extending the existing inferred mineral resource and testing the highest priority exploration targets identified through the above work.
Conduct an exploration drilling program along the strike of the main Kabang mineralized zone (800 meters), with three widely spaced sections along the mineralized zone, each with angled holes proposed across the mineralized zone:

SW Kabang: Test the highlighted porphyry Cu/Au IP target and epithermal Au.
Central Kabang: Test the central Kabang zone (around AMD005 and KAD004)
NE Kabang: Test the Matangkaka area (west of the MAD group of holes)
---